In 1979 the Dutch stamp dealer "Postzegelhandel W.v.d Bijl" celebrated it's 4th anniversary. For this occasion a imitation print was made of the 10 Guilder from the 1913 Jubilee issue.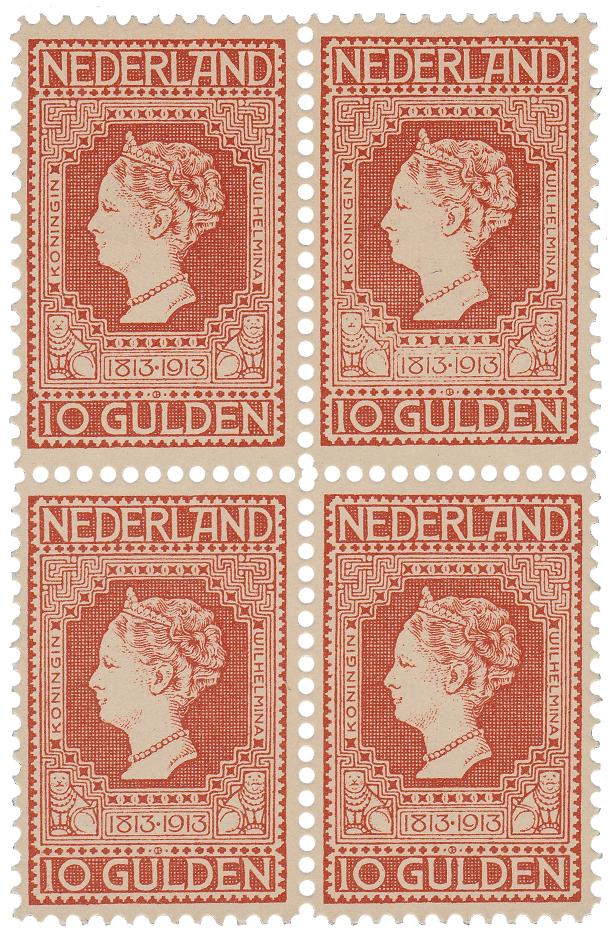 On the backside of each stamp a text was printed. The translation in English of the text reads as followed; "This postage stamp is – on the occasion of the 4th anniversary – specially printed for the stamp shop W.v.d. Bijl, Servetstraat 2, Utrecht".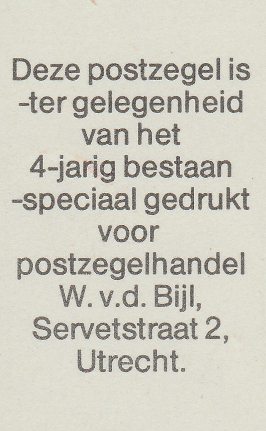 For mint examples of this imitation print is easy to spot, but this imitation print is also reported to have the text removed and re-gummed as well as placed on piece with a fake postmark.
The differences between the real stamp and the imitation print can be recognised by the following details:
Perforation of the genuine stamp is line perforation 11½, while the forgery has 10½.
Printing technique for the genuine stamp is line engraving, while the forgery is printed in offset.
Paper for the genuine stamp is somehow a bit yellowish and a bit rough, while the paper of the forgery is white and very smooth.
Further there are small differences in the stamp image.
The cross shading around the head is relative even and open with the genuine stamp, while the forgery shows more uneven and sometimes the open spaces between the lines are filed with ink.
The forgery doesn't show many small details in the face of the queen and sometimes in the neck as well. (see stamp 2 versus the other 3 stamps in the block of 4 of the imitation print, first image.)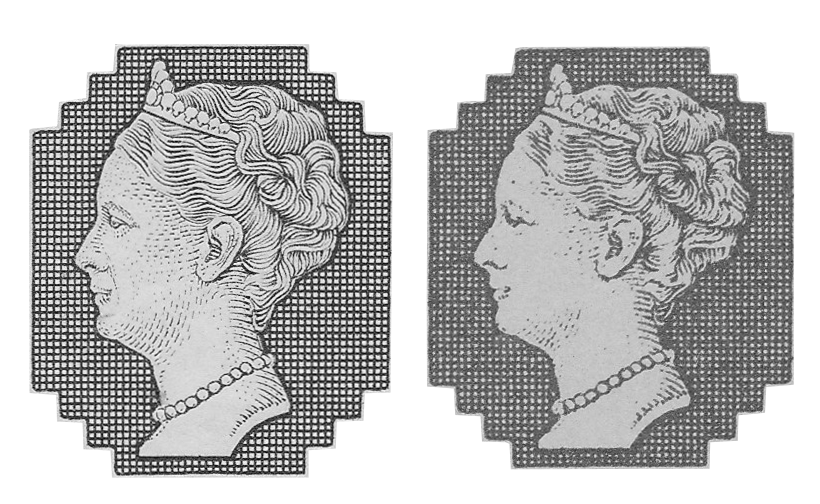 The forgery doesn't show many details in the lions as well. The shade lines in the neck of the lion is with genuine example clearly two small lines close together, while the forgery shows more of a block shape. The dots in the lions back are sometimes completely missing with the forgery.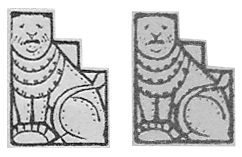 Overview defraud and involvement details
Forgery to defraud collector: No (for mint examples as imitation is clearly presented), Yes (for altered stamps)
Forgery to defraud postal authority: No
Forger: N/a
Business: Postzegelhandel W.v.d Bijl
Other people involved: N/a
Other Businesses Involved: N/a
Criminal conviction recorded: N/a